This (6 night, 7 day) overnight camp covers all the bases when it comes to adventure! Join us for an introduction to some of the thrilling recreational activities Virginia and the Blue Ridge Mountain Region has to offer. We will set up base camp on private property in Hillsville, VA and spend the week traveling to various locations in order to pack as much adventure into the week as possible. The basecamp cabin will have a bathroom & shower with running water and full kitchen in cabin for group meals and gear storage.
Each day, we will travel no more than 1-2 hours to participate in one of the many activities we have planned. Below is a quick description of the week:
Campers will spend time on the New River in VA, not too far from the cabin during a full day canoe/kayak float in search of small mouth bass.
The group will enjoy a day of Guided Rock Climbing in the New River Gorge in West Virginia. Our trip will be guided by Adventures on the Gorge. No prior climbing experience is needed, but if campers have personal rock climbing gear they are welcome to bring it.
The group will participate in a day hike on the Appalachian Trail in Grayson Highlands State Park, with a mission to summit Mount Rogers. The hike starting from Massie Gap is approximately 8 miles round trip. This is a pretty moderate trail suitable for all ages! Super exciting, as this is the highest peak in VA!
Later in the week, we will travel back to the New River Gorge to go White Water Rafting on the Lower New River! Our trip will be guided by Adventures on the Gorge.
But thats not all, we also have the great privilege of a day of Private Conventional Trout Stream Fishing in Wolf Creek!
During the week, we will make sure to do our part in keeping the outdoors wild & wonderful by removing liter from these scenic places we love so much. Campers will give back to the beautiful states of Virginia and West Virginia by earning community service hours through a Community Trash Clean Up.
So join us for a great week of fun in the sun, big adventures, exciting experiences, and life long memories with new friends.
See you outside!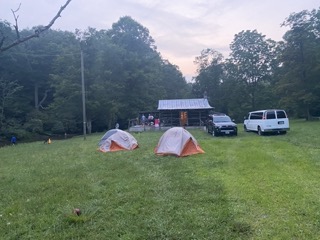 ---
Lodging/Food: There will be a cabin on the property where we will set up base camp. It will function as a bathhouse and kitchen for the group. Campers will group up in canvas tents and sleep under the stars! 4-5 campers will accompany each other in the 2 Canvas Tents. Staff members will sleep in personal tents. All meals will be cooked and provided by Virginia Outside. Campers will be asked to help with food prep when needed and will be responsible for washing their personal dishes after each meal.
Transportation: Transportation to the cabin in Hillsville, VA is provided by VA Outside. The group van and gear trailer will leave from Richmond, Virginia on Sunday Afternoon. A shuttle will be provided Sunday morning from Northern Va to Richmond for those who need it, Campers shuttled to Richmond will join the group van. A shuttle upon return from Richmond to Northern Va on Saturday will also be offered. This shuttle will be $100 per camper, one way. Parents are more than welcome to personally transport campers to the cabin and meet the group once they have arrived.
Camp Info: This is a small group camp open to only 10 campers per week